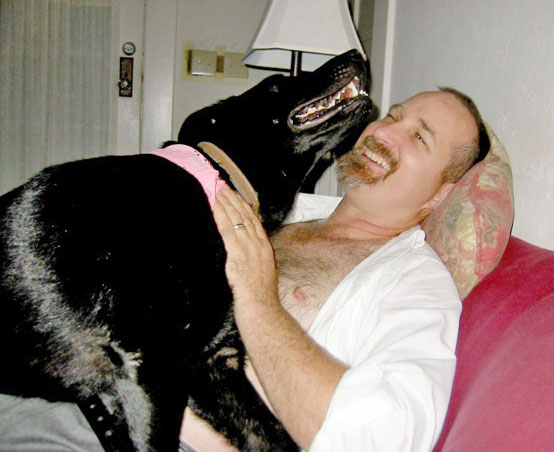 Reggie, the 100-pound Lap Dog. Back when I had hair!
Thanks to everyone who expressed
their warm wishes when our old boy Reggie was dying. It meant a lot to us, and built up new friendships in the process. This article is for our dog-loving friends, to share our happiness amidst the sadness.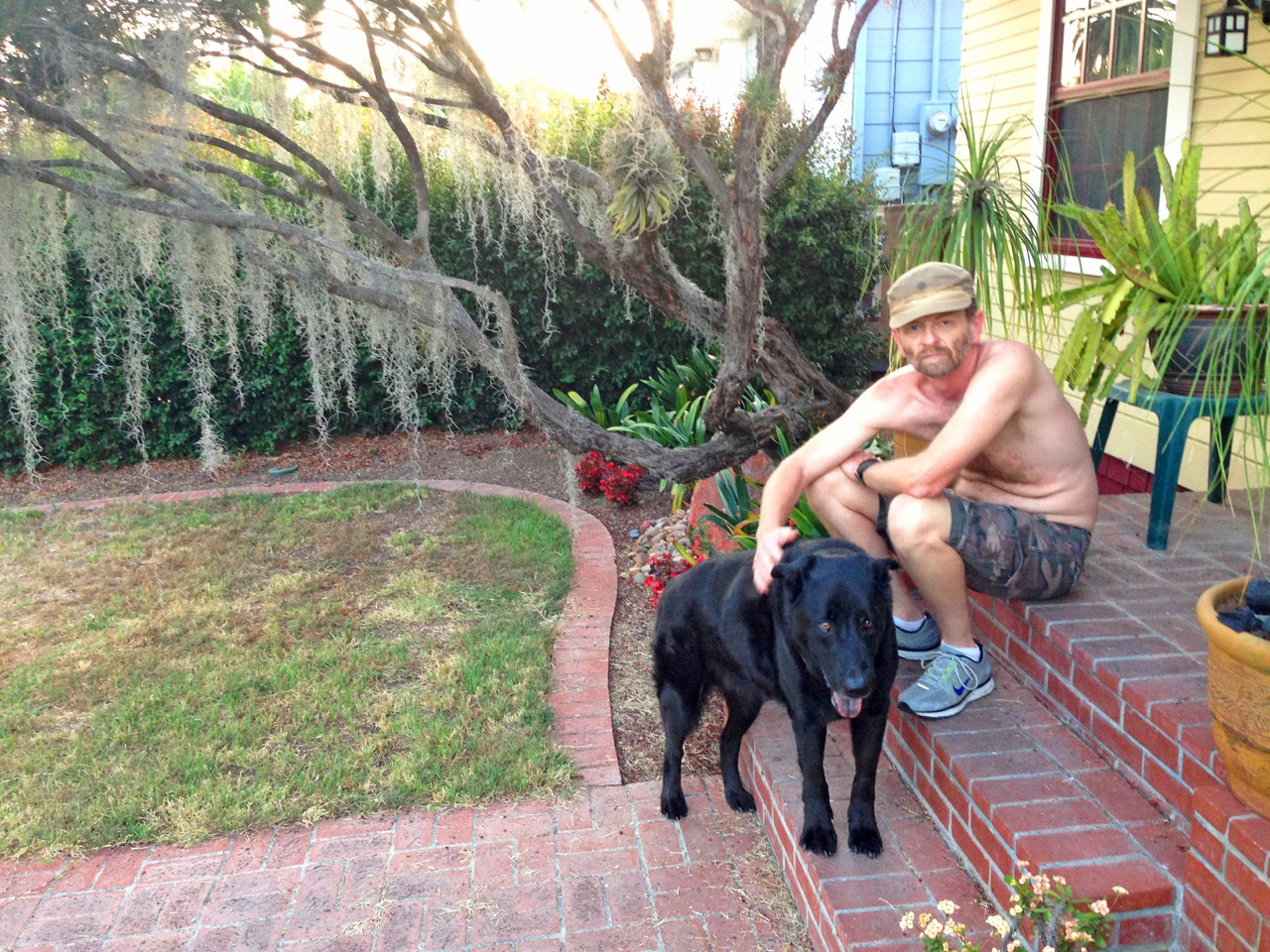 My husband Dennis with Reggie,
on his second-to-last day, in our front yard.
We laid Reggie to rest a couple of weeks ago. He stopped eating, and he simply had no pleasures in life remaining. We miss him terribly.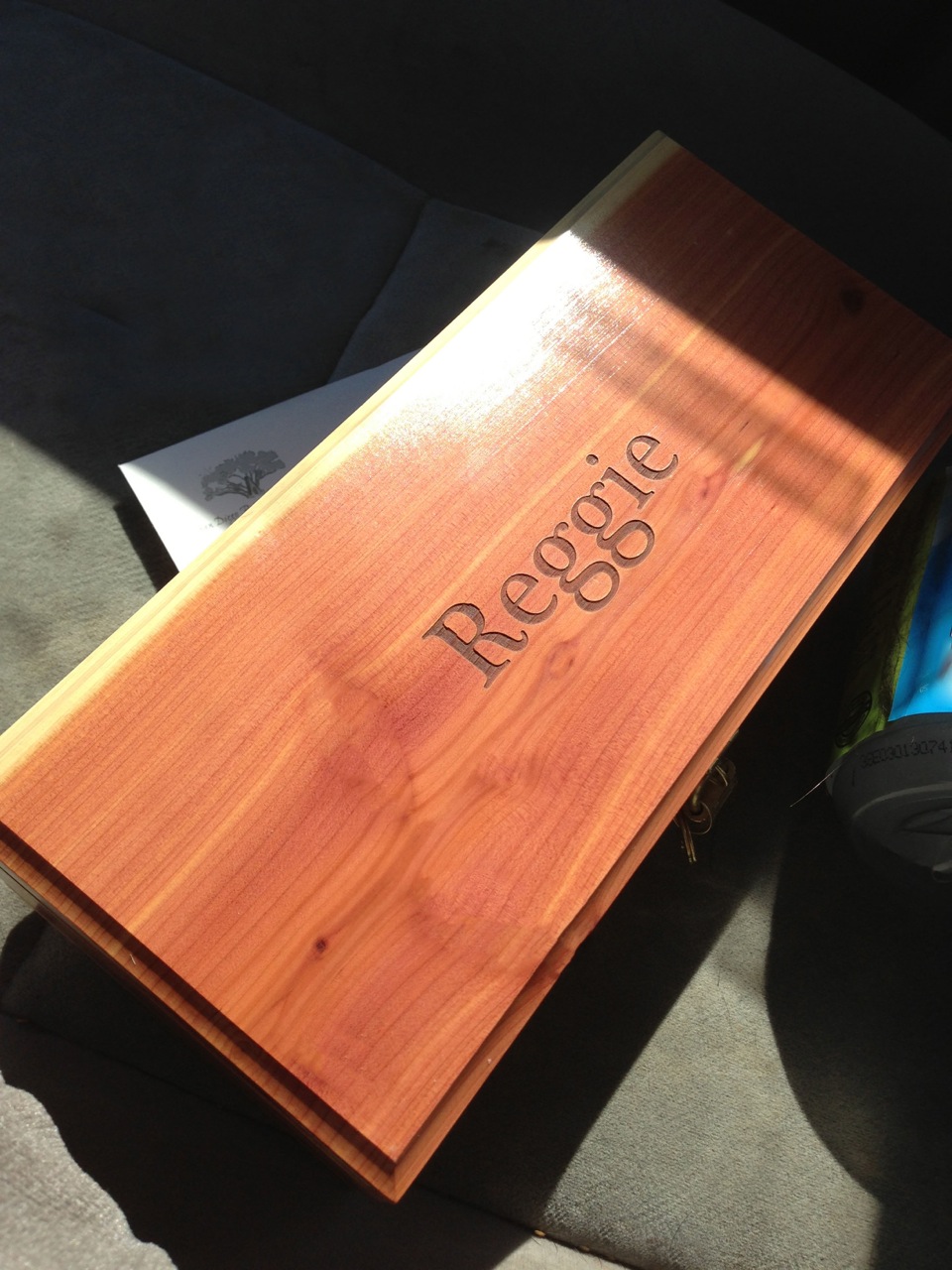 Reggie coming home for the last time.
I picked up his ashes today, and he is going to be buried
among the flowers
in our yard, along with our other pets from decades past.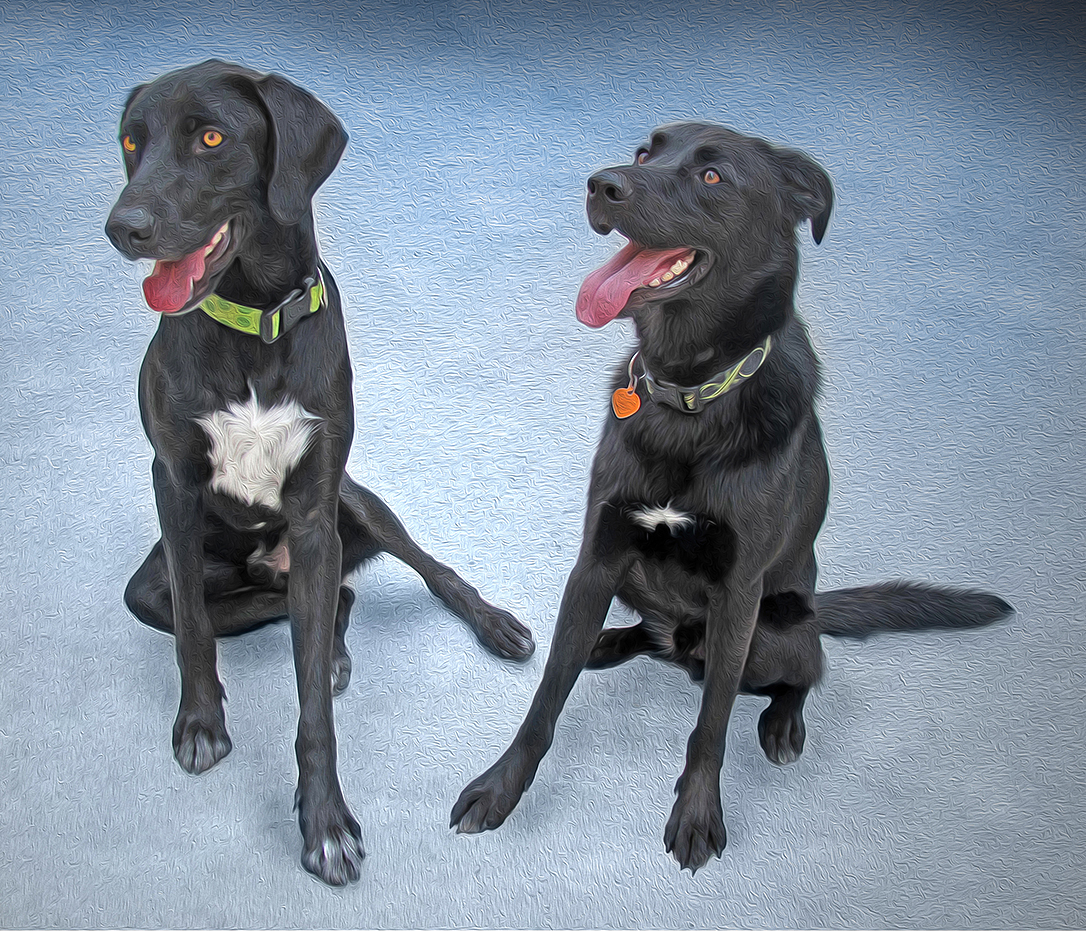 Mickey on the left, and Jimmy on the right.
Named after two Irish bartenders who also
happened to be Dennis' grandfather and great-grandfather.
Our way of dealing with the dog-shaped hole in our family life was to get TWO new one-year-old Lab Mix puppies (yes, puppies - Lab mixes stay puppies for YEARS). We got them two weeks apart, from Labs and More, which is a dedicated team of volunteers who rescue pets from the local shelters and work extra-hard to find them "forever homes," like ours.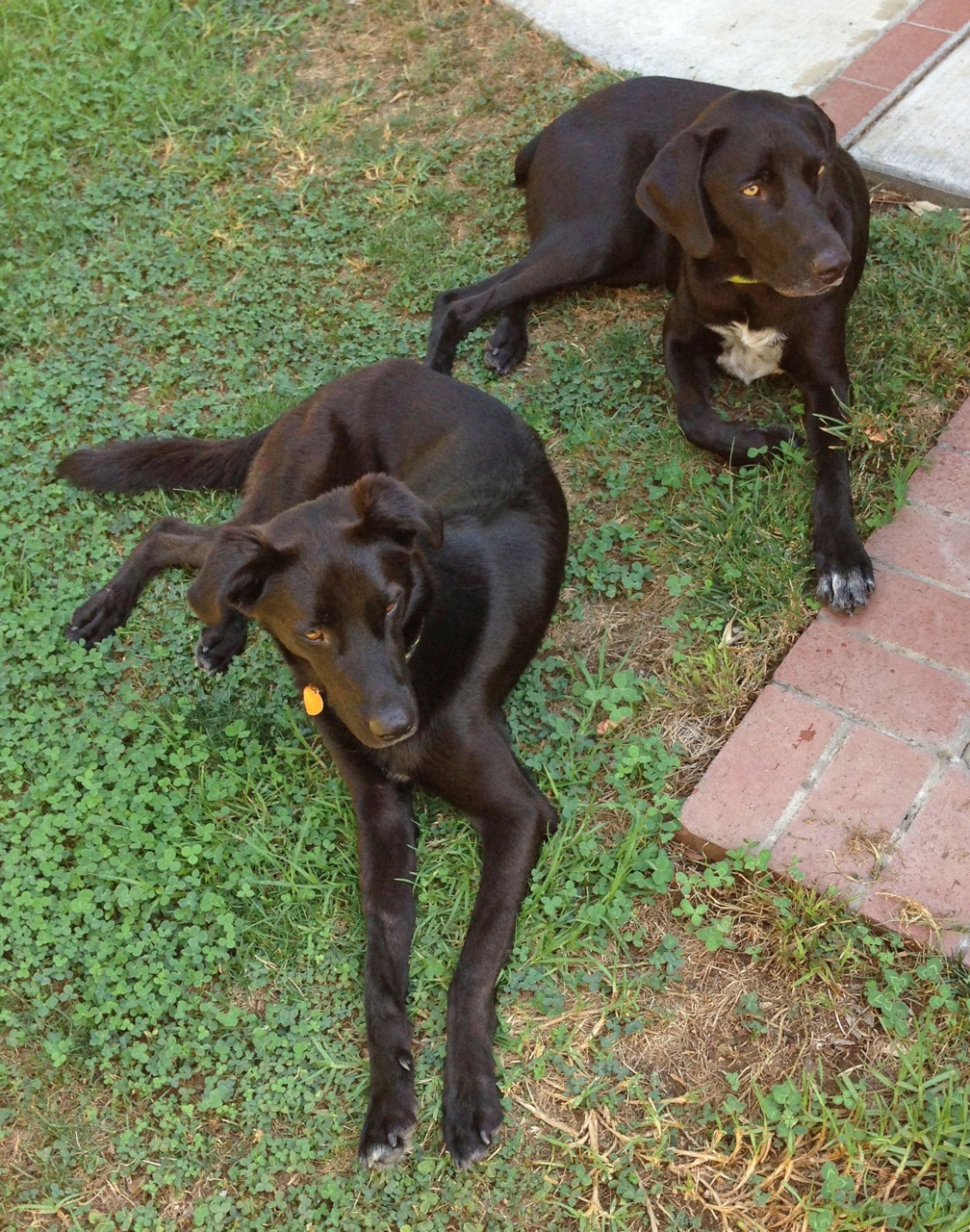 Their efforts were not wasted - Let's get REAL, here - if reincarnation exists, I want to come back as the beloved pet of a long-term gay-male couple. Highest-quality exercise, health-care, grooming and affection for our Fur Children!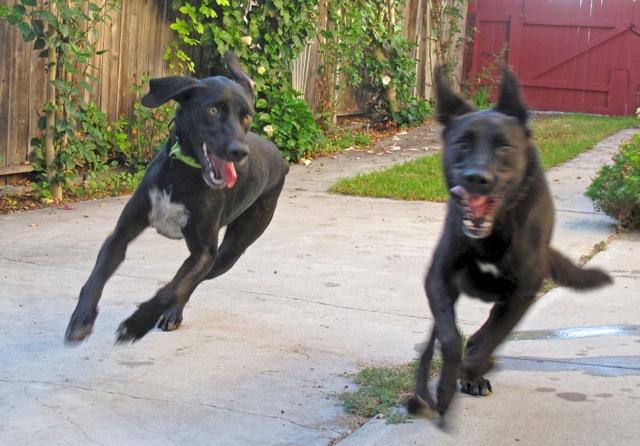 The boys are constantly playing (wrestling and scampering), interacting and touching. You'd think that they were sibling brothers.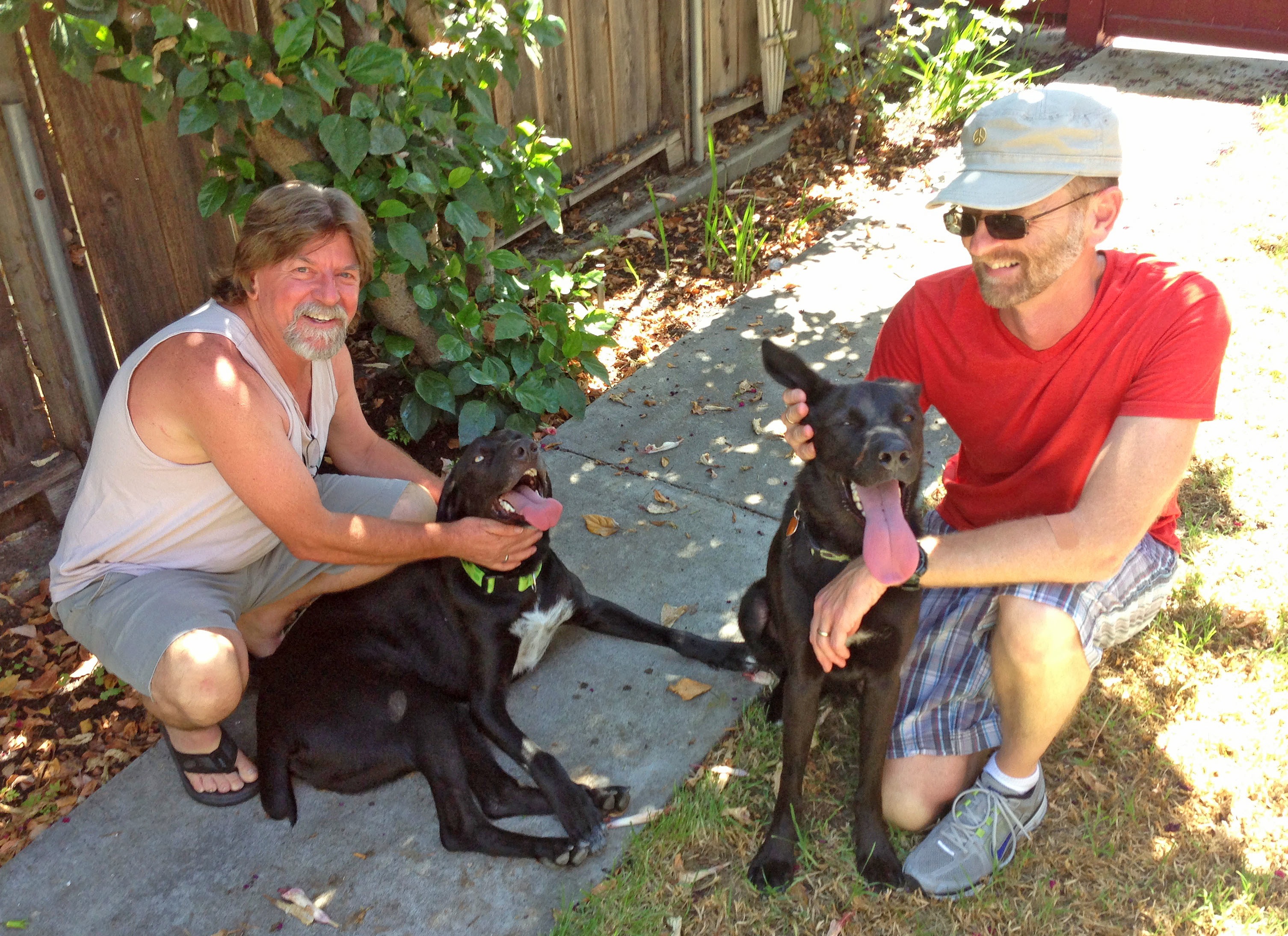 Our sweet neighbor (also named Dennis) likes to slide doggie treats through the slats in the fence.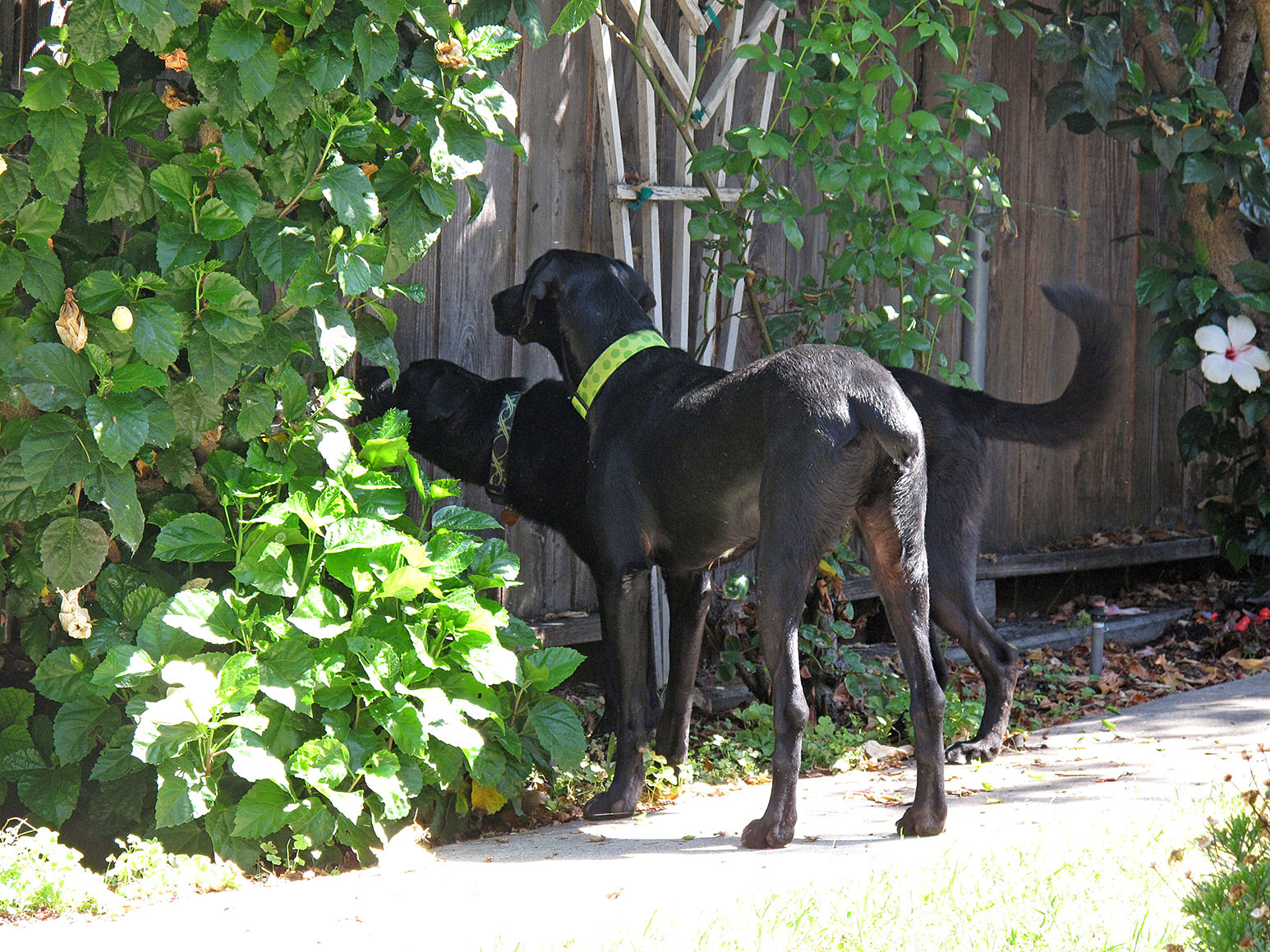 You can't tell, but those tails are WAGGING!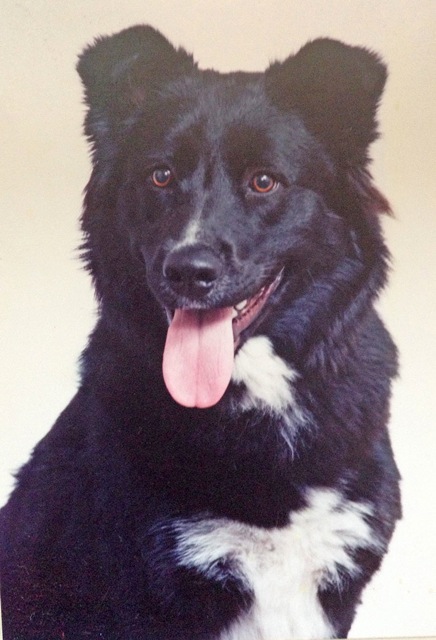 Our girl Shiloh, from twenty years ago.
We are starting to think that Jimmy is a Border Collie/Black Lab Mix, like our own Shiloh from when we first moved into this house. Jimmy's very, very smart, and always paying attention to our words. He learns FAST.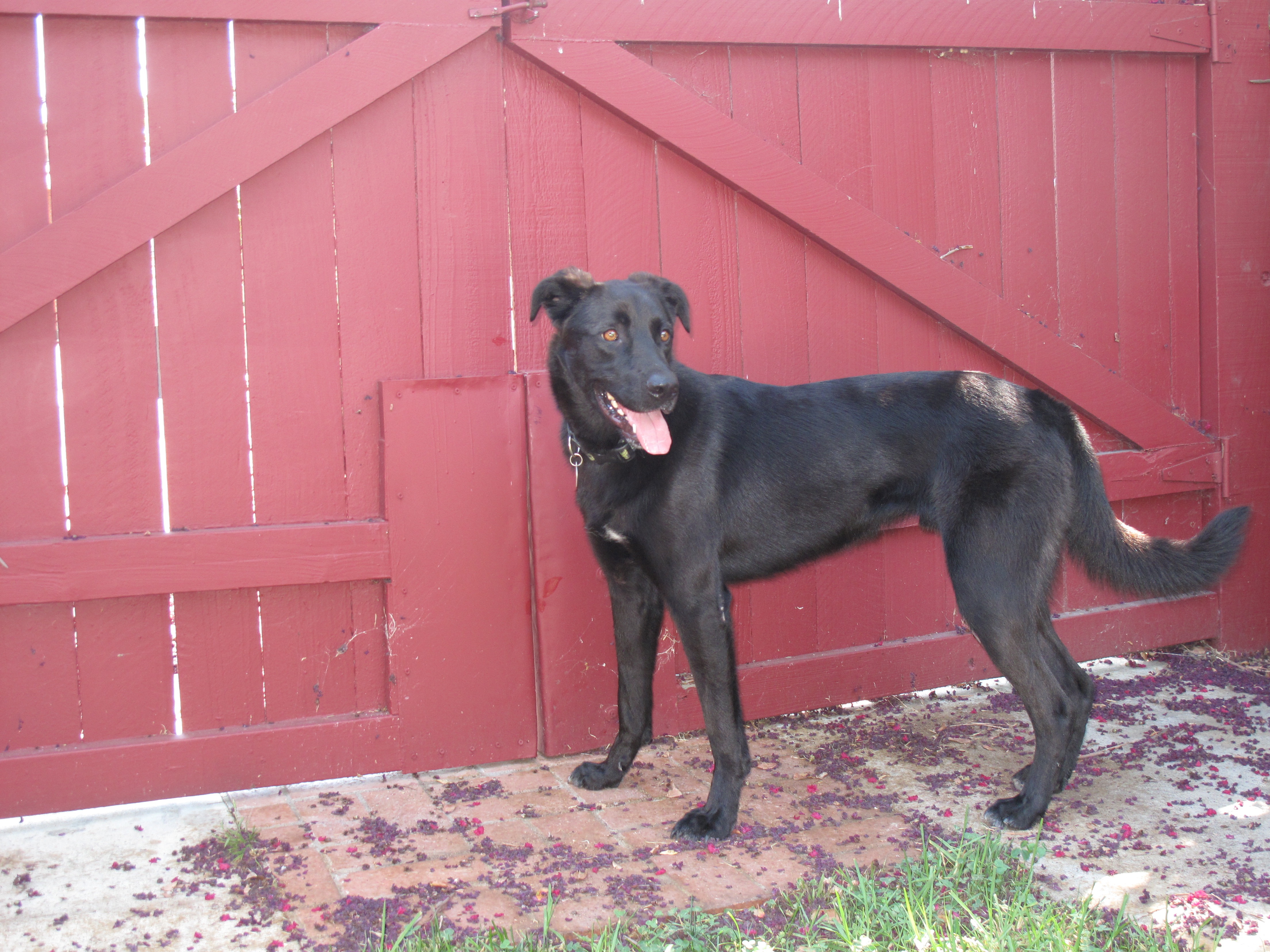 Just like Shiloh, he likes to try scaling the gate sometimes, but we have a wonderful neighbor who has been monitoring him when we are out of the house, and scolding him when he tries to jump the fence. He's doing it less and less often now, just as Shiloh did, before she stopped altogether and settled down.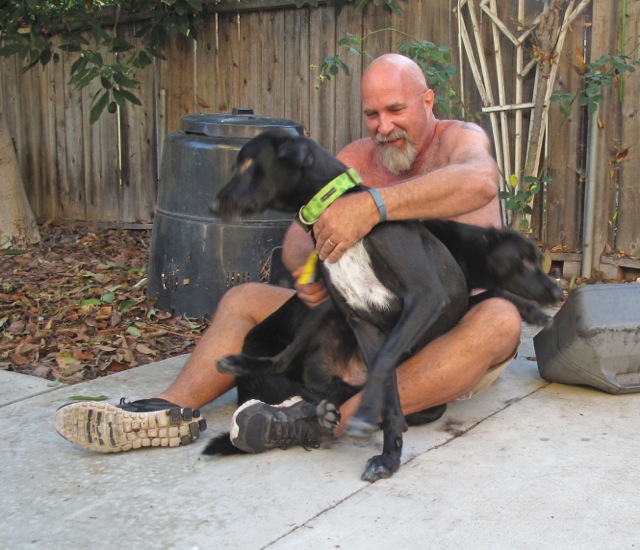 Mickey has definitely taken on the role of being Alpha Dog, and he takes his duties very seriously. This has had the effect of calming Jimmy down, making him less of the "wild boy" we saw on our first meeting. However, Mickey's territoriality makes it hard to pet just one dog - I'm big, but my lap is not big enough for 132 pounds of squirming pooches!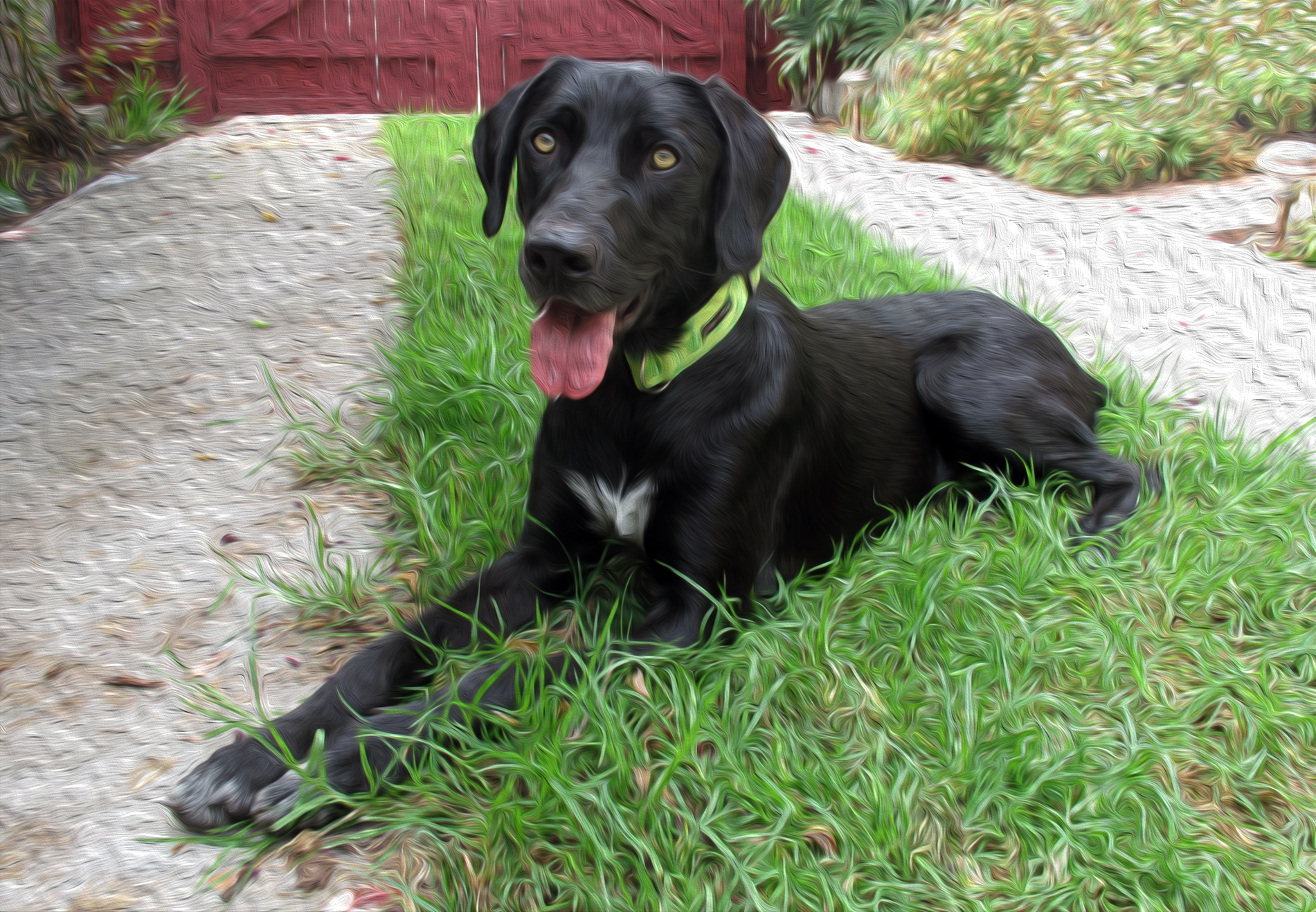 We believe that Mickey is a "
Labmaraner
" - half Black Lab and half Weimaraner. There are folks online who think that this is a VERY desirable mix, and we can see why. Mickey seems to have the best attributes of both, with none of the downsides.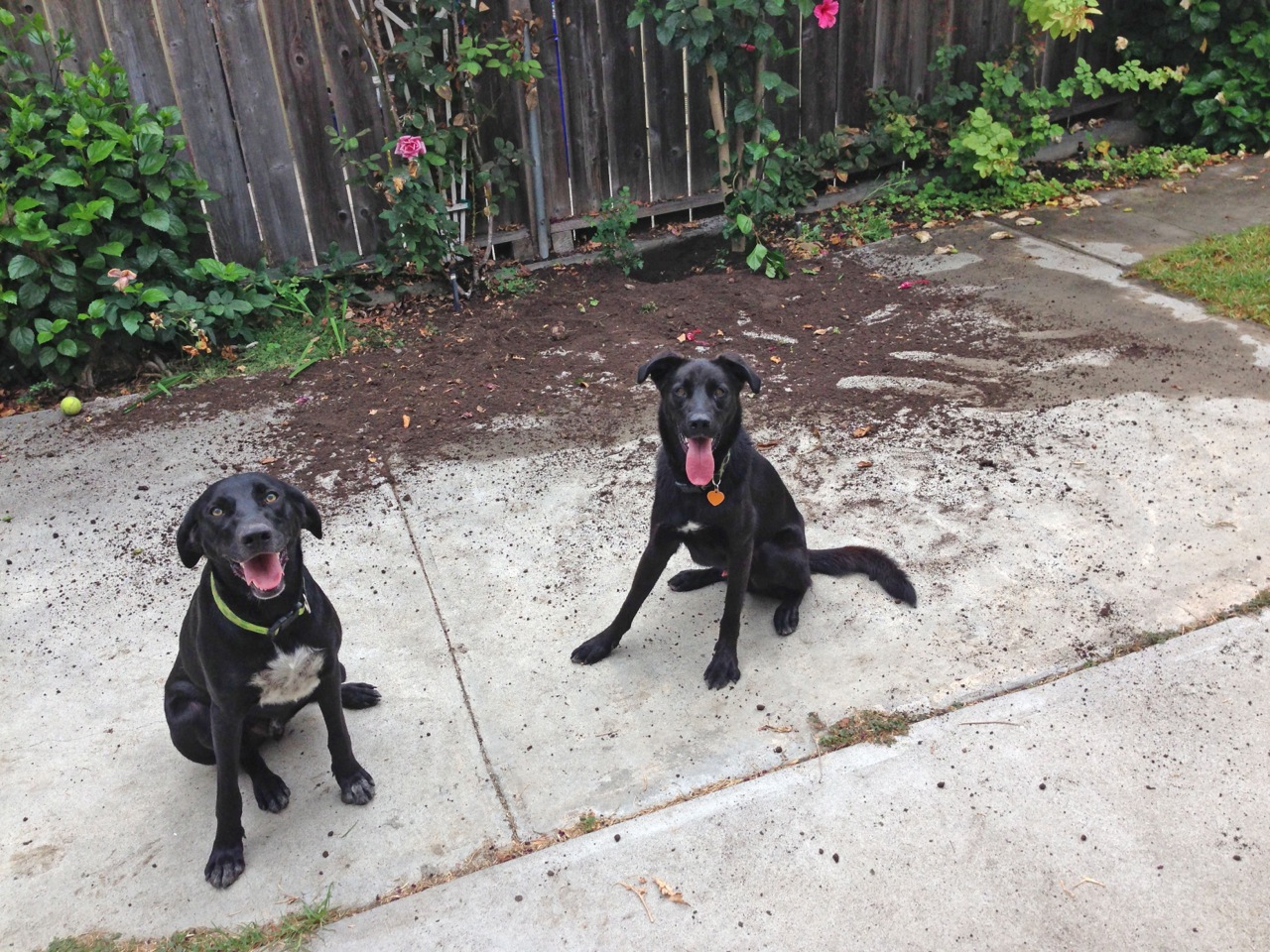 Of course, since we took on such YOUNG and untrained dogs, they aren't perfect angels yet… We're working on that, every day.
On the good side, these dogs are wearing us out in a VERY good way, due to the long and brisk walks that they demand every day. We move like the wind for miles, every evening when it cools down. They aren't so much interested in marking territory, they want to MOVE. As a result, my blood-pressure is in the Green Zone for the first time in decades.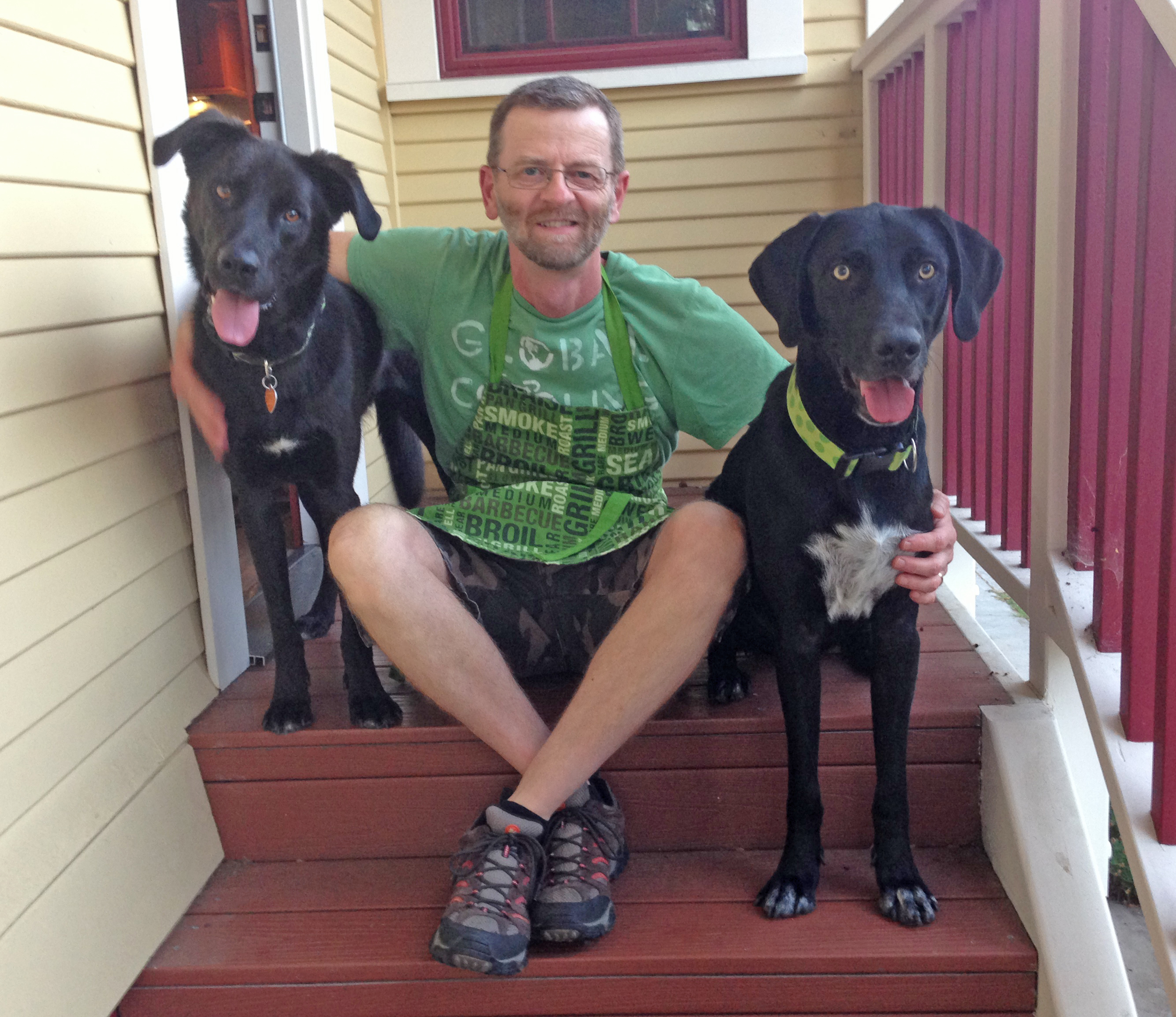 Mickey has fully accepted our house as his Forever Home, after being with us since August 24th, 2013 (seventeen days to adjust, so far). Jimmy has only been with us for three days, but he has already made great strides in settling into a happy routine, and learning Pack Protocol from his bossy big brother, who outweighs him with 22 pounds of pure muscle.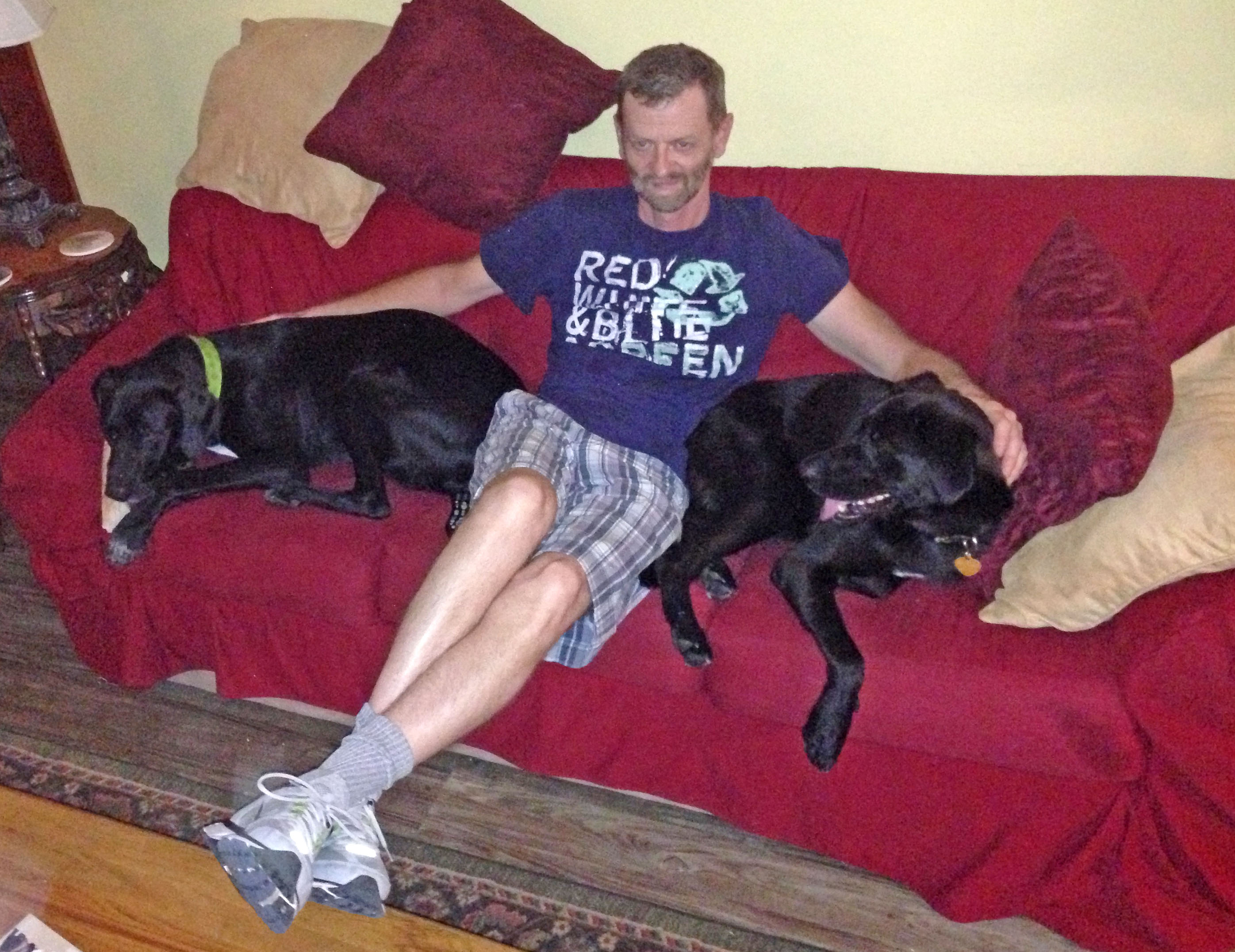 We are looking forward to years of happiness with our boys!
Thanks to the superb team at
Labs and More
, who kept our boys happy, healthy and emotionally balanced until they could find their Dream Home!